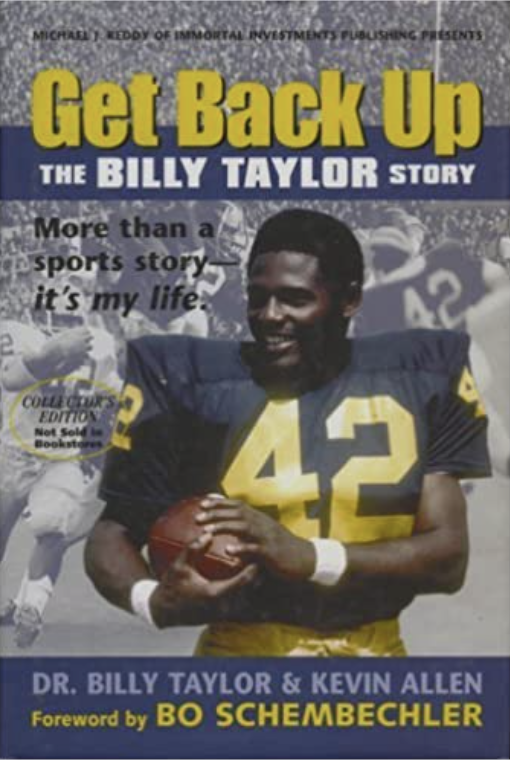 Immortal Investments Publishing, 2005
Dr. Billy Taylor and Kevin Allen
Get Back Up: The Billy Taylor Story
One of Michigan's most celebrated football players, William Taylor was buffeted by numerous personal tragedies and spent nearly 20 years living on Detroit's streets before rebuilding his life and becoming an educator.
With just under two minutes to play in Michigan's football game against Ohio State in 1971, William Lewis Taylor Jr. ran 21 yards for the game-winning score, in one of the most famous moments in Michigan football history. As he recalls, "at that precise moment I reached the end-zone and raised my arms to the heavens, my life seemed perfect." No one would have guessed that just four years later, he would be arrested for bank robbery and spend two decades living on the streets of Detroit. In this autobiography, Taylor shares his story, narrating his career at Michigan and his disastrous fall afterwards, only to eventually get back up.
Born in Arkansas, Taylor grew up near Akron, Ohio, in a deeply religious family. A talented football player, he came to Ann Arbor in 1968 as one of seven Black freshmen players, a record at the time. "The Mellow Men," as they dubbed themselves, formed a close-knit family during their time at Michigan, but Taylor also formed a special bond with Coach Bo Schembechler.
Despite his on-the-field success, tragedy struck repeatedly during Taylor's final months at Michigan with his mother, girlfriend, aunt, and uncle all dying. These shocks cut short Taylor's time in the NFL and, in 1975, he was arrested as a co-conspirator in a bank robbery. Schembechler helped arrange his defense, but he was convicted and served two years in prison.
From there his life spiraled into alcoholism and poverty. Taylor unflinchingly recounts his time living on the streets of Detroit, but in August 1997 he heard a mysterious voice boom: "William Taylor come forth." In what he calls a miracle, he lost his taste for alcohol and began rebuilding his life. He moved to Nevada where he became a teacher, eventually earning a doctorate and becoming Dr. Billy Taylor.