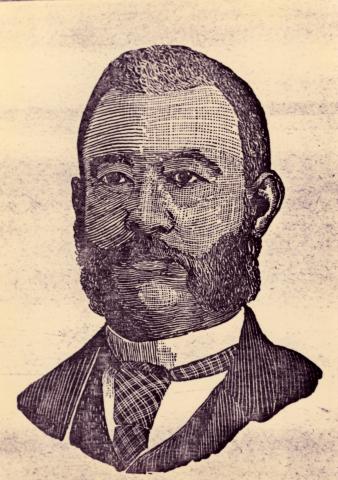 Wayne State University Press for the Detroit Historical Society, 1973
L.L. Hanawalt
Henry Fitzbutler: Detroit's First Black Medical Student
William Henry Fitzbutler was Michigan's first Black medical graduate and had a long and distinguished career as a physician and educator in Kentucky.
William Henry Fitzbutler was an accomplished surgeon who left his mark both in Michigan and in Kentucky, where he was a leading member of Louisville's African American community for nearly 30 years. In this article, Leslie Hanawalt narrates Fizbutler's remarkable life and legacy.
Born in Amherstburg, Ontario, Canada, to parents who had escaped from slavery, Fitzbutler grew up in a community nearly 40 percent Black, as it was one of the main terminuses for the Underground Railroad. Encouraged by his wife, he enrolled in the Detroit Medical College in 1871, becoming its first Black student. He transferred to the University of Michigan the following year, similarly becoming its first African American medical student and then first Black medical graduate.
After graduation, Fitzbutler and his family moved to rapidly growing Louisville, Kentucky. There, he opened the first Black-owned medical practice in the state, advocated for expanded educational opportunities for African Americans, and operated two newspapers. In 1888, he convinced the Kentucky Legislature to pass a law creating the Louisville National Medical College, the state's first medical school that accepted students of all races. Fitzbutler served as the school's head and professor of surgery until his death in 1901, and the school itself lasted until 1912, educating generations of Black doctors.