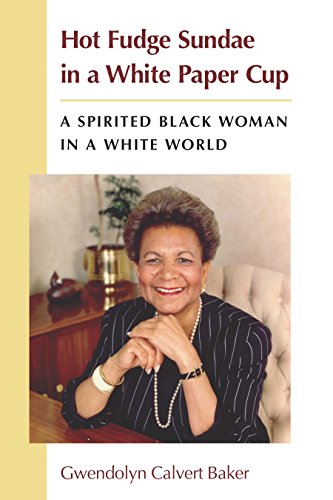 University of Michigan Press, 2014
Gwendolyn Calvert Baker:
Hot Fudge Sundae in a White Paper Cup: A Spirited Black Woman in a White World
Born in de facto segregated Ann Arbor, Gwendolyn Calvert Baker rose from elementary school teacher to head of the United Nations Children's Fund (UNICEF).
Gwendolyn Calvert Baker had an extraordinary life and career. In this fascinating account, she shares her memories and experiences of a lifetime spent leading the development of multicultural education. Her memoir takes its title from the moment Baker first became conscious of her race. As a young girl in de facto segregated Ann Arbor during the 1930s, she purchased her first hot fudge sundae, only to notice that hers came in a paper cup while the white children around her received glass bowls. That moment of shocked realization provides the foundation of her determined career, rising from an elementary school teacher to a leader of the United Nations Children's Fund (UNICEF).
A major theme throughout her story is the challenge of balancing her educational career and personal life. She enrolled in the University of Michigan in 1949 but dropped out when she became pregnant. Nevertheless, she was determined to complete her degree and returned to the University while juggling marriage, motherhood, employment, and schoolwork. After graduating in 1964, she became an elementary school teacher in Ann Arbor. She then returned to the University as a graduate student and later as a member of the faculty of the School of Education as well as serving as its first Director of Affirmative Action Programs. From there, Baker recounts her rise, first to Washington and the National Institute of Education, then to New York, where she served in a number of nonprofit leadership positions. Eventually she became the head of the Young Women's Christian Association (YWCA) and then president and CEO of the U.S. Committee for UNICEF.