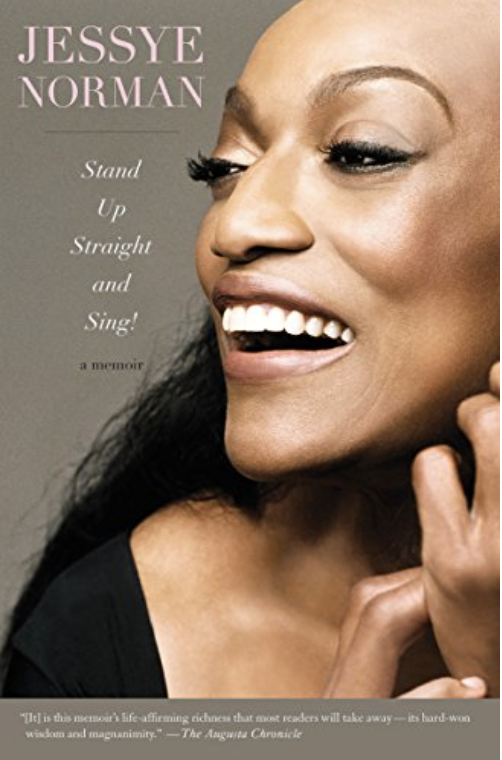 Houghton Mifflin Harcourt, 2014
Jessye Norman:
Stand Up Straight and Sing!
Jessye Norman was one of the world's most beloved opera singers and recitalists, performing across the globe for nearly fifty years.
Jessye Norman was one of the world's most beloved opera singers and recitalists for nearly 50 years. Holding true to her belief that music, no matter the genre, "is spiritual—a ministry—and the rhythms, the lyrics, the pacing, the dramatic content, the delivery, each of these has the exquisite power to touch people," she uses this memoir to share her meditations on music and living interspersed with moments from her own life. The result is a highly engaging account of both her life and the world of opera.
Born in Georgia in 1945, music was "at the very center of all that [Norman] enjoyed" from her earliest days. As a child, her parents supported her following her passion for music even as the family joined the civil rights movement. A first-place finish at age 16 in the Marian Anderson Vocal Competition led to a scholarship to Howard University and then to a master's in vocal performance at the University of Michigan.
It was her time at Michigan that led to her participation in an international singing competition in Munich, Germany, which she won, launching her career on both sides of the Atlantic. Her account of her life is not chronological, but rather thematic with chapters on topics such as "spirituals," racism, and the craft of singing, each illustrated with anecdotes. For example, in the chapter on balancing one's inner and outer personas as a performer, she discusses the honor of being asked to sing "La Marseillaise," the French national anthem, for the official celebration of the bicentennial of the French Revolution, and how that brought together two of her great loves—France and singing. In keeping with the centrality of music in her life, every chapter ends with song lyrics from a piece she cherished and that reflects the chapter's theme.