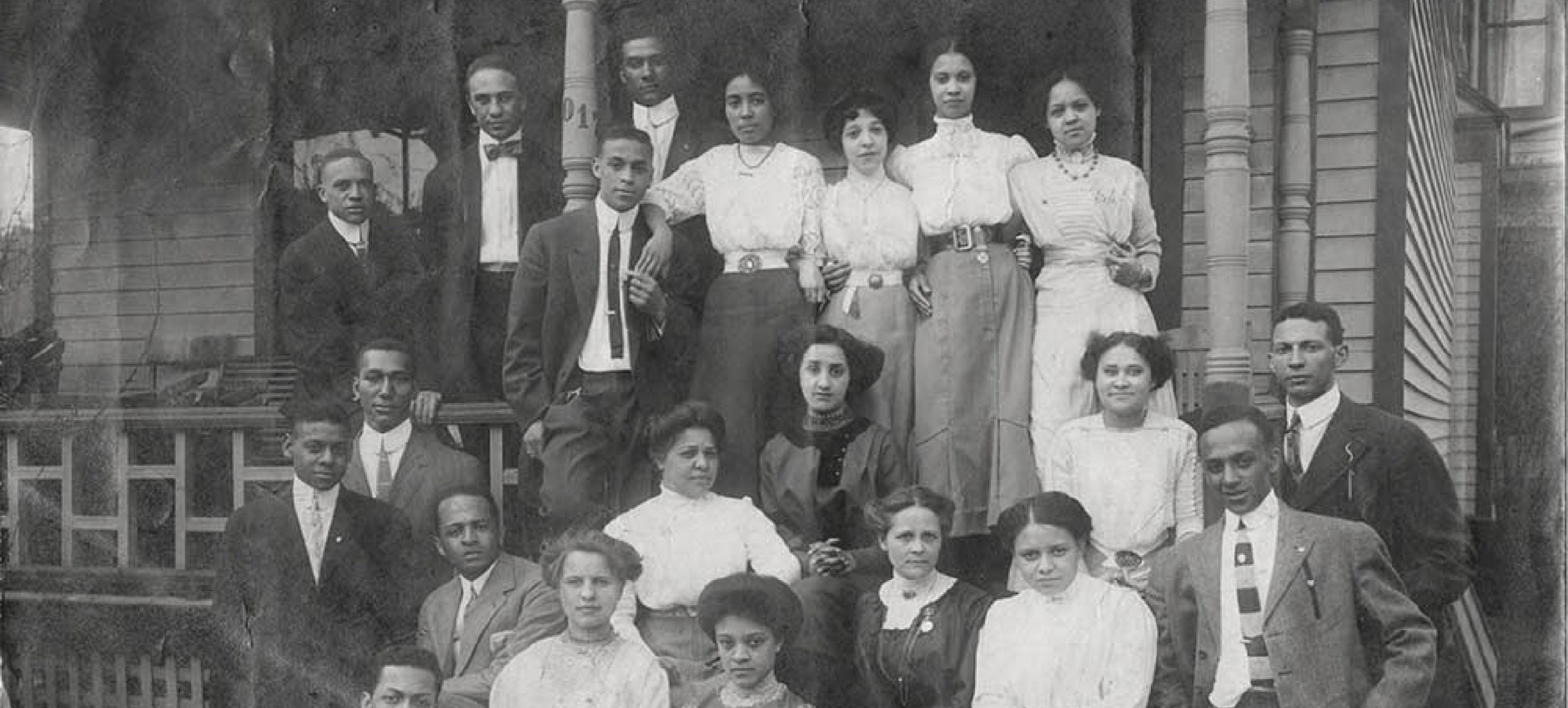 Database Best Practices
More information about searching the database
Students in front of the Alpha Phi Alpha House, ca. 1912.
This database can be used to find information on specific African American students who attended the University of Michigan between 1853 and 1970, such as the first known person to enroll in a particular program. It can also be used to find information about African American students at the University more generally, such as how many were enrolled during a certain year, how many women studied engineering, or how many lived at a particular address. Below you will find some tips for completing these and other searches.
You can search one field at a time, or use a combination of fields.

Many fields have drop down menus that allow you to choose from a set list of terms to search.

Click on the question mark next to each field for more information for what that field searches.
Searching Names

When searching by name, start your search with the name that a student would have used when they were enrolled at the university. 

For undergraduate women, the last name is most often their birth (maiden) name, but for older women students such as graduate students, this could also be their married name. 

If you are not sure about what name they would have used, you can enter your search in the "All Names" box, which searches birth names, married names, first names and middle names all together.
Searching U-M Degrees

You can search for a specific degree, such as Bachelor's degrees (A.B. or B.S.) or Law degrees (J.D. or L.L.B.) or search by degree type and field or school, such as undergraduate engineering students or linguistics graduate students.

U-M colleges and schools have changed names over time, so the version that is used is a simplified one i.e. Business rather than the Ross School of Business. 

The degree field (major or specialization) may not be known for all students, so try just the degree, or the degree and college if results are not found.

Non-graduates are also searchable by degree type, degree field, or U-M College, if known. Select "[no degree]" from the dropdown list in combination with other fields.
Searching Years

Searching by enrollment year and graduation year allows you to search within a defined time period, rather than the entire database.

You can use the "From" or "To" boxes by themselves, or both together.

If just the "From" box is filled in, it will return results for all students from that year forward. 

If just the "To" box is filled in, it will return results for all students up until that year.

Using the two boxes together searches only between the two given years.

Enrollment years will search for anyone who was enrolled during a given period, whether they graduated or not, and will lead to a greater number of search results. 

Graduation years only search for names of students whose graduation information has been verified, typically in the Proceedings of the Board of Regents.

An example of how the enrollment year could be used would be to see how many women students attended the university between 1930 and 1939. A second search could then be done for women who graduated between 1930 and 1939. These two numbers could then be compared to determine graduation rates among black women in the 1930s.
Searching Activities

Use the dropdown menus to search by general type of activity, or for the name of a specific organization. These two fields can be used independently from one another. 

For example, searching for Greek-Social in the activity type will show students who were members of any fraternity or sorority, but searching for Omega Psi Phi in the organization name will return names for just members of that group.
Searching Places

To search for where a student came to the University from, you can either search by state or more specifically by a city or town. 

Selecting a hometown state will allow you to then choose a particular city. The drop- down list for cities will only work if a state is selected.  

Local addresses use standard abbreviations: St., Ave., Blvd.
Searching Other Degrees and Schools

Search for information about colleges or universities attended or degrees a student received either before or after they attended the University of Michigan. 

Since school names sometimes change over time, the name used is the current name of the college or university, i.e. Michigan State University rather than Michigan Agricultural College.

Selecting the box to search HBCUs only will limit the results to those who are known to have attended historically Black colleges and universities before or after enrolling at Michigan. HBCUs were established by African American communities and leaders along with white allies in some cases to primarily serve African American students excluded from predominantly white institutions of higher education prior to passage of the Civil Rights Act of 1964.
Searching All Fields
The "All Fields" box will perform a full-text search of any of the above fields. There are two different options when performing a full-text search.

If "Match Any Word" next to the box is selected, this will be a broader search.

For example, searching for John Smith Nashville would bring up results for any person that has John OR Smith OR Nashville in their record.

If "Match All Words" next to the box is selected, this will be a narrower search.

For example, searching for John Smith Nashville would only bring up results for a person that has John AND Smith AND Nashville in their record.