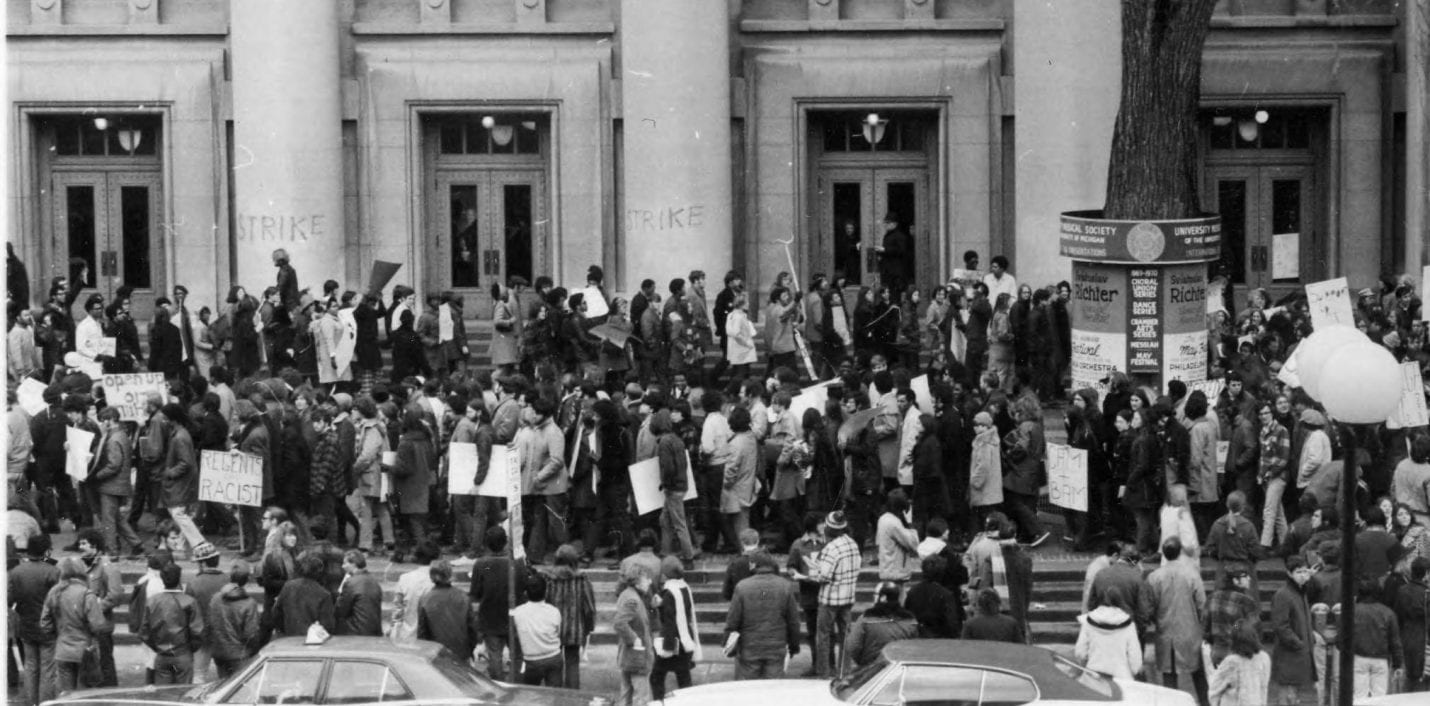 Every Name Has A Story
We invite you to read stories spotlighting the exceptional men and women whose legacies and accomplishments at U-M have been too long in the shadows.
Black Action Movement demonstration in front of Hill Auditorium, 1970.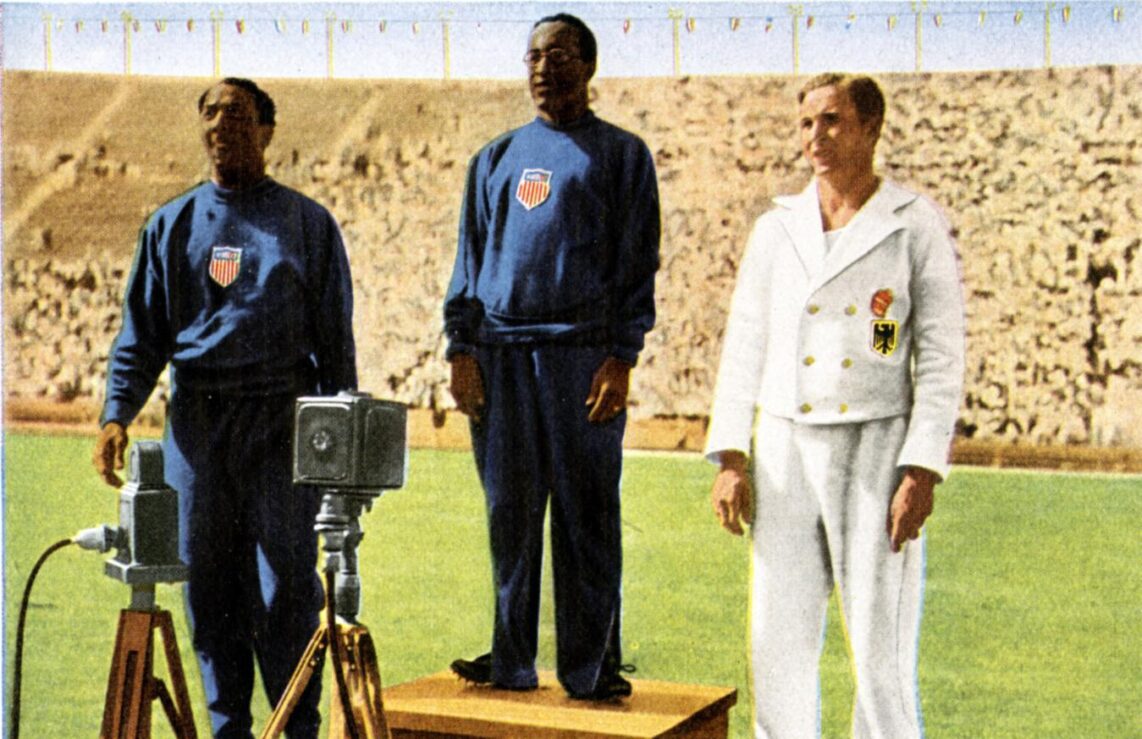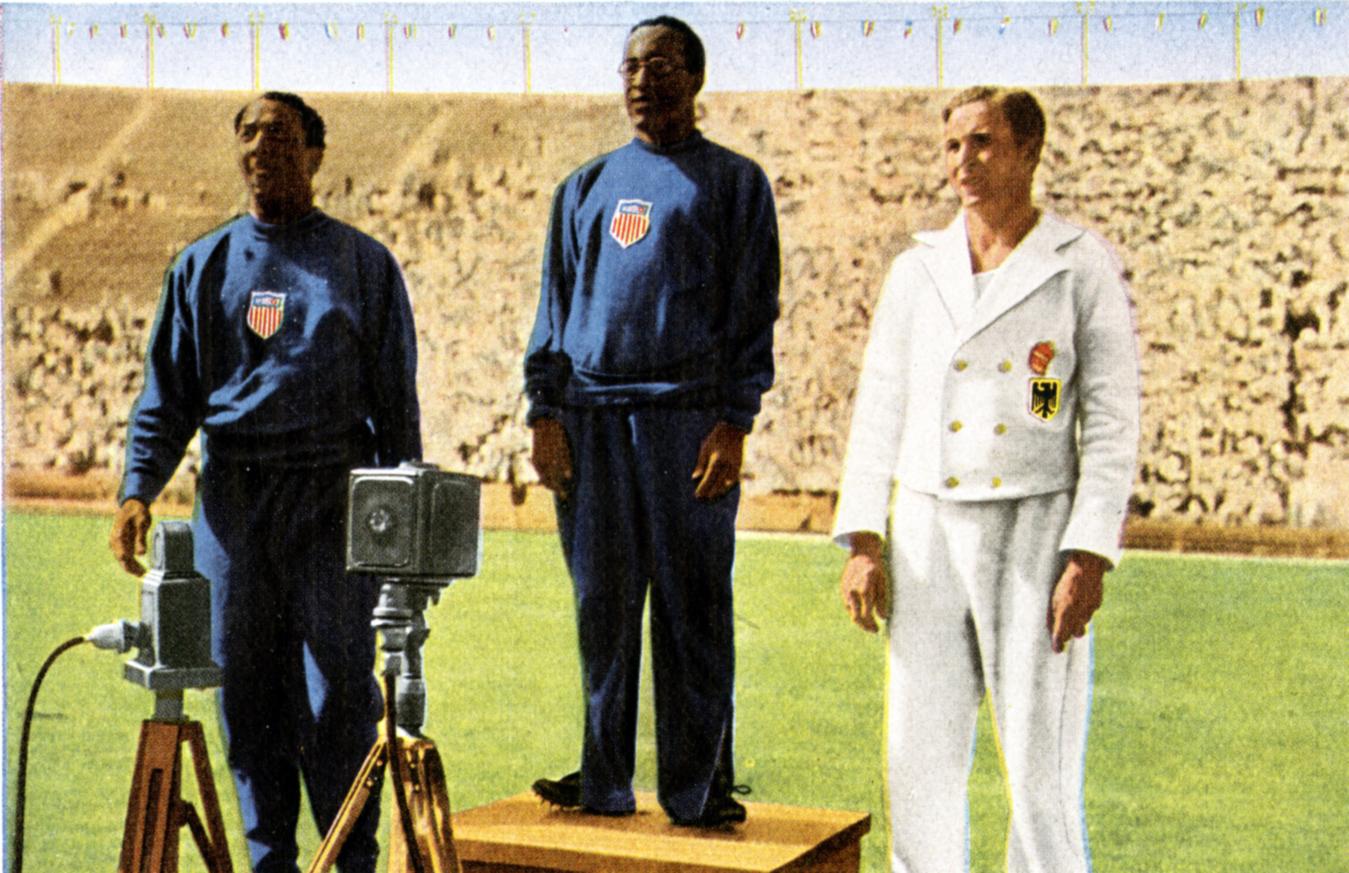 Eddie Tolan, center, on the stand at the 1932 Olympics.
Detroiter and Olympian Eddie Tolan
Eddie Tolan was a celebrated U-M athlete and Olympic medal winner dubbed "the world's fastest human." His many successes were the result of a lifetime of perseverance and determination.
IN THEIR OWN WORDS
Autobiographies and Biographies
Several African American alumni have published books about their personal stories, both at U-M and beyond.
Immortal Investments Publishing, 2005

Dr. Billy Taylor and Kevin Allen

Get Back Up: The Billy Taylor Story

One of Michigan's most celebrated football players, William Taylor was buffeted by numerous personal tragedies and spent nearly 20 years living on Detroit's streets before rebuilding his life and becoming an educator.

Orangeburg, South Carolina, 1971

Lawrence Chesterfield Bryant:

Autobiography of Lawrence C. Bryant

Lawrence Chesterfield Bryant taught at historically Black colleges across the South and organized the first genealogical programs for African Americans in the Carolinas.

Howard University Press, 1983

Lyman Beecher Brooks:

Upward: A History of Norfolk State University

Lyman Beecher Brooks dedicated his life to education and to historically Black Norfolk State University, which he led for nearly 40 years.

University Press of Kentucky, 1988

Lyman Johnson and Wade Hall:

The Rest of the Dream: The Black Odyssey of Lyman Johnson

Lyman Johnson was an educator and a key leader in the fight for civil rights in Kentucky for more than 40 years.

University of Georgia Press, 2021

Mary Frances Early:

The Quiet Trailblazer

Mary Frances Early was a celebrated musical educator and committed "foot soldier" in the struggle for civil rights, becoming the first Black graduate of the University of Georgia.

Self-Published, 2013

Sylvia Lash Holman:

Being Black, Looking White ... My World

Sylvia Lash Holman's extraordinary life has taken her from segregated North Carolina to Ann Arbor where she spent decades as a teacher and advocate for educational equity.

Houghton Mifflin Harcourt, 2014

Jessye Norman:

Stand Up Straight and Sing!

Jessye Norman was one of the world's most beloved opera singers and recitalists, performing across the globe for nearly fifty years.

Harlo Press, 1989

Mary Olivia Brookins Ross:

From Crumbs to Gravy: The Autobiography of Mary Olivia Brookins Ross

Mary Olivia Brookins Ross was an educator and devout Baptist who led the women's branch of the National Baptist Convention for more than thirty years.

Simon and Schuster, 1982

Roger Wilkins:

A Man's Life: An Autobiography

Roger Wilkins was a leader in the fight for civil rights in the Kennedy and Johnson administrations before becoming a Pulitzer-prize winning journalist.

Xlibris Corp., 2001

William Jimmerson Holloway:

The Odyssey of a North American Educator

William Jimmerson Holloway led a long and distinguished career as an educational administrator, first in historically segregated Black colleges and then as part of efforts to end segregation.

Michigan Publishing, 2015

Willis C. Patterson:

The Unlikely Saga of a Singer from Ann Arbor

A highly accomplished classical singer, Willis Charles Patterson had a wide-ranging career, which included over 40 years as an inspirational educator in Michigan's School of Music.